Bears
RS26 Zuni Bernard Laiwakete bear fetish carving
BERNARD LAIWAKETE ORTHACERAS BEAR CARVING

From the beginning of time to today, carved from orthaceras fossil, with turquoise heartline,
2 1/4" x 6" x 1/4" RS26 - $96.00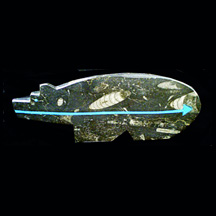 Additional Info
Eons ago, small marine creatures swarmed across the planet. Over the sweep of time, they were trapped in earth material and fossilized by the ages.
In current time, Bernard Laiwakete, a Zuni carver, acquired the material and carved it in the shape of a bear, thereby combining the present with the past.